Nov
24
Sat
Walking the Cranberry Pond Trail with Gerri Griswold
Nov 24 @ 2:00 pm – 3:00 pm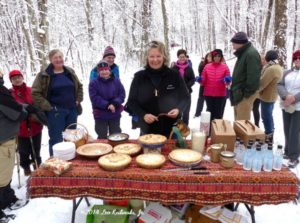 Welcome to our 9th annual edition of this popular walk! Nothing could cap off a wonderful "on the cusp of winter" stroll along this spectacular trail better than a cup of hot coffee and a thick wedge of Crimson Pie swimming in a pool of thick ginger crème anglaise! Meet in the Museum. 2:00 P.M., We'll drive over to the trail head together. Please pre-register for this pie-enhanced stroll by calling 860-567-0857 or by registering HERE!
FREE… Donations will be accepted to help defray the Conservation Center's programming expenses.
Dec
8
Sat
Crack o' Dawn Owl Prowl with Fran Zygmont and Gerri Griswold – SOLD OUT!

@ A.B. Ceder Room
Dec 8 @ 4:00 am – 6:00 am
You can do it! Venture out into a cold December morning in search of our native owls with expert Fran Zygmont. We'll be in search of Barred Owls, Screech Owls, Saw-Whet Owls, and Great Horned Owls. Dress for the weather. Coffee and comestibles will be served beforehand. Optional breakfast at Patty's après program. 4:00 A.M., Meet at the A. B. Ceder Room. Members: FREE, Non-members: $5.00,  Pre-registration and pre-payment are required. Call 860-567-0857 or register online .