When:
March 7, 2020 @ 7:00 pm – 8:30 pm
2020-03-07T19:00:00-05:00
2020-03-07T20:30:00-05:00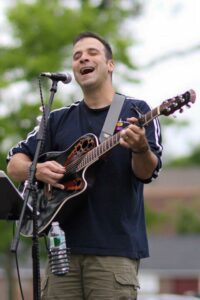 Saturday, March 7, 2020
Ian grew up in Connecticut with seventeen entertaining and musical brothers and sisters. Outrageous family dinner time jam sessions, with instruments like "salt shaker" and "nose" gave Ian a love for music and performance. After high school, Ian spent five years in the military. Did a lot of growing up there… Came home, traveled more, fell in love, broke up, rinsed, repeated… broke the chain, got married… Making a family and a music career in his own little American dream..
Ian's music is influenced mostly by singer songwriters. James Taylor, Jackson Browne, Joni Mitchell. Then came these modern day folkies… The Patti Larkin, Eddie from Ohio, Cheryl Wheeler and the likes… Ian's music is about making your way through life as an American kid, and now an adult who always 'feels' like a kid. Ian is always interested in finding the light. Songs of love, growth, journey, killing, lost innocence, learning… It's all in there.. BYOB! Cake and coffee will be on hand! This evening is going to be so much fun! 7:00 P.M., A. B. Ceder Room. All tickets: $15.00. Pre-registration and pre-payment are required. Call 860-567-0857 or register online.