When:
March 3, 2021 @ 3:45 pm – 5:00 pm
2021-03-03T15:45:00-05:00
2021-03-03T17:00:00-05:00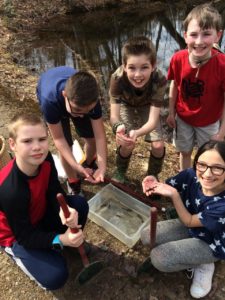 THIS EVENT IS NOW SOLD OUT.
Grades 4-6: Wednesdays in March (the 3rd, 10th, 17th, 24th, and 31st)
WHILE SUBJECT TO CHANGE, THIS PROGRAM IS SCHEDULED TO RUN IN-PERSON. ALL COVID SAFETY PROTOCOLS WILL BE FOLLOWED. MASKS ARE REQUIRED FOR ALL PARTICIPANTS. WE WILL REMAIN OUTDOORS OR IN AN OPEN-AIR PAVILION AT ALL TIMES. PLEASE MAKE SURE PARTICIPANTS ARE DRESSED FOR THE WEATHER.   
After-School Adventures
White Memorial's after-school programs are designed to awaken curiosity and foster an appreciation for the natural world in your school-aged children. Every session brings a new adventure, whether it's exploring a new nook and cranny, meeting a live animal, or taking part in a fun activity. It's all about experiential learning in the outdoors! Sign up by session or for the whole series. Parents/Guardians are welcome to stay, but it is not necessary. 3:45-5pm. Pre-registration and pre-payment are required. Please call 860-567-0857 or visit whitememorialcc.org to register. Space is limited! Sign up by session or for the whole series. Members: $9/child per session or $40 for the whole series (5 sessions), Non-members: $13/child per session or $60 for the whole series (5 sessions)