When:
February 20, 2021 @ 2:00 pm – 3:30 pm
2021-02-20T14:00:00-05:00
2021-02-20T15:30:00-05:00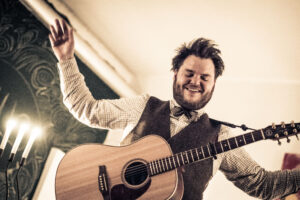 Saturday, February 20, 2021
A native of the rugged north of Iceland, troubadour and storyteller Svavar Knútur has dedicated his life to exploring the human condition through the lens of his country's dark and often tragic history and unique melodies and narrative style.
Channeling the angst ridden serenity of long dark winters and the insomnia of the 24 hour glaring summer sun, this eclectic musician has in recent years blossomed into a sublime singer and songwriter. Knutur's songs of misery and redemption deliver a healthy dose of hope in the midst of despair.  A humoristic storyteller and avid diver into the murky waters of the human condition, Svavar Knútur sows and reaps a unique mixture of art and entertainment.
You'll laugh. You'll cry. Svavar conjures up every emotion in you and more. He is truly one of the world's most versatile and gifted singer/songwriters. https://www.svavarknutur.com/ 2:00 p.m., ZOOM, Members: FREE, Non-Members: $10.00 Pre-registration is required. Register here: www.whitememorialcc.org A link to the concert will be emailed to you the day before.