When:
July 12, 2021 @ 9:30 am – August 13, 2021 @ 1:30 pm
2021-07-12T09:30:00-04:00
2021-08-13T13:30:00-04:00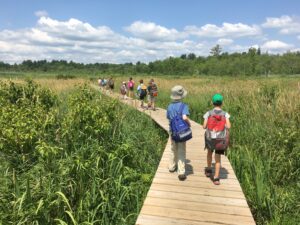 July 12-August 13 (weekdays only)
"Natural History Explorers" Summer Camp
Kids entering grades 3 – 9 can join us for week-long sessions that immerse them in nature! Our adventures take us into the nooks and crannies of White Memorial's property. Activities include hiking trails, collecting rocks and minerals, investigating aquatic life, exploring different ecosystems, learning to identify wildlife, and much more. 9:30am – 1:30pm each day (please note the time change from years past).
Grades 3 & 4: July 12-16 & 19-23
Grades 5 & 6: July 26-30 (SOLD OUT) & August 2-6
Grades 7, 8 & 9: August 9-13
Sign up by week.
PLEASE READ THE FOLLOWING INFORMATION VERY CLOSELY:
Certain adjustments will need to be made to summer camp in light of current circumstances:
– Our "homebase" for Natural History Explorers will be located in the Activity Shed, a building that can be opened on two sides to increase ventilation. Activities will primarily take place outdoors or in the Activity Shed.
– Inside the Activity Shed, seating for children will be spaced 6 ft. apart.
– We may take occasional visits into the Nature Museum, but those visits will be scheduled when no one else from the public will be in there.
– Natural History Explorers will NOT be traveling to offsite locations as we have in the past. All activities will take place on White Memorial property and will not require the van for transportation.
– Masks are required (except in the case of documented medical exemptions) for all participants, and for parents during drop-off and pick-up if parents get out of their cars. We will provide occasional "mask breaks" while the kids are outdoors and spread out from each other.
– In addition to washing hands with soap and water, we will also be using sanitizer occasionally. Please let us know if your child has an allergy to sanitizer.
– All other state guidelines for COVID safety will be followed.
Pre-registration and pre-payment are required. Please call 860-567-0857 or visit whitememorialcc.org to register. Registration opens April 1 for members and April 15 for non-members. Space is limited! Members: $125/week, Non-members: $185/week. Financial aid is available on a first-come, first-served basis – inquire by calling.
Refunds will only be issued (minus a $15 service fee) if a cancellation is made 2 weeks in advance of the first day of the camp you're booking. Call 860-567-0857 or email lois@whitememorialcc.org regarding advanced cancellations.
Upon registration, you will be mailed a confirmation letter along with 4 important documents: a permission slip, a blank physical form, a medication authorization form, and a list of Policies and Procedures. Please review this mailing closely and return the necessary paperwork as soon as possible, but by July 1 at the very latest.
Thank you!