When:
July 12, 2021 @ 9:30 am – July 30, 2021 @ 1:30 pm
2021-07-12T09:30:00-04:00
2021-07-30T13:30:00-04:00
Contact:
White Memorial Conservation Center
860-567-0857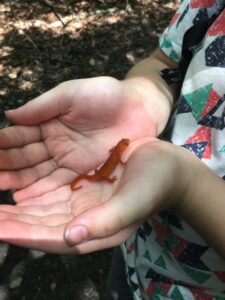 July 12-30 (weekdays only)
"Nature Adventurers" Summer Camp SOLD OUT!

Kids entering grades 1 & 2 can join us for three weeks of outdoor discovery, games, books, songs, and crafts that help them learn more about the natural world around them. Sign up by week. 9:30am – 1:30pm each day (please note the time change from years past).
PLEASE READ THE FOLLOWING INFORMATION VERY CLOSELY:
Certain adjustments will need to be made to summer camp in light of current circumstances:
– Our "homebase" for Nature Adventurers will be located in the Meeting Barn, a building that can be opened on two sides to increase ventilation. Activities will primarily take place outdoors or in the Meeting Barn.
– Inside the Meeting Barn, seating for children will be spaced 6 ft. apart.
– We may take occasional visits into the Nature Museum, but those visits will be scheduled when no one else from the public will be in there.
– Masks are required (except in the case of documented medical exemptions) for all participants, and for parents during drop-off and pick-up if parents get out of their cars. We will provide occasional "mask breaks" while the kids are outdoors and spread out from each other.
– In addition to washing hands with soap and water, we will also be using sanitizer occasionally. Please let us know if your child has an allergy to sanitizer.
– All other state guidelines for COVID safety will be followed.
Also, please be aware that the restrooms located near the Meeting Barn are outhouses only. These will be the primary restrooms used by the kids during camp. It would be very helpful if you could make sure your child is comfortable using outhouses before attending camp.
Pre-registration and pre-payment are required. Please call 860-567-0857 or visit whitememorialcc.org to register. Space is limited! Registration opens April 1 for members and April 15 for non-members. Members: $125/week, Non-members: $185/week. Financial aid is available on a first-come, first-served basis – inquire by calling.
Refunds will only be issued (minus a $15 service fee) if a cancellation is made 2 weeks in advance of the first day of the camp you're booking. Call 860-567-0857 or email lois@whitememorialcc.org regarding advanced cancellations.
Upon registration, you will be mailed a confirmation letter along with 4 important documents: a permission slip, a blank physical form, a medication authorization form, and a list of Policies and Procedures. Please review this mailing closely and return the necessary paperwork as soon as possible, but by July 1 at the very latest.
Thank you!