When:
April 10, 2021 @ 12:00 pm – 1:30 pm
2021-04-10T12:00:00-04:00
2021-04-10T13:30:00-04:00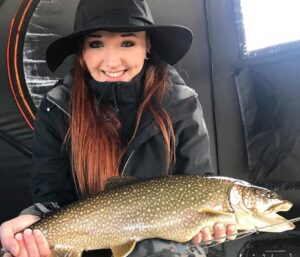 Saturday, April 10, 2021
This program is made possible through the generosity of Ann McKinney.
Join Wild Center ( www.wildcenter.org )biologist Nicole Morin at Otter Falls to examine the unique adaptations and lifestyle of North American River Otters. We'll learn about the history of otters and their incredible comeback in the Northeast, and The Wild Center's own journey of rehabilitating and releasing two otter pups in 2020.
About Our Speaker: Nicole works as a biologist at The Wild Center of Tupper Lake, NY where she cares for 600+ individuals within their native wildlife ambassador collection. Her roles include wildlife husbandry and educational programming focused on Adirondack natural history.
Nicole obtained her Bachelor of Science from Paul Smith's College, where she studied natural resource conservation management and fisheries and wildlife sciences. After relocating from Litchfield, CT to Lake Placid, NY she began work at The Wild Center. She is now a licensed New York State Guide and is co-owner of Adirondack TrOutfitters LLC, and is a licensed wildlife rehabilitator practicing in the North Country.
12:00 p.m., ZOOM, Members: FREE, Non-Members: $10.00, Register here: www.whitememorialcc.org A Zoom link will be provided with your registration receipt.