When:
August 6, 2020 @ 4:00 pm – 5:00 pm
2020-08-06T16:00:00-04:00
2020-08-06T17:00:00-04:00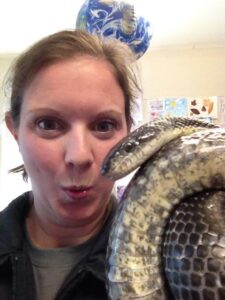 Thursday, August 6, 2020
4:00 p.m.
We have six resident reptiles (3 turtles and 3 snakes) that serve as education ambassadors at White Memorial, and you'll get to meet them all during this live animal presentation. What are their names? Their stories? What do they like to eat? You'll learn these answers and more.  4:00 p.m., This free virtual program will be hosted in Zoom, but if the Zoom Webinar is full, head to the "The White Memorial Conservation Center" Facebook page, where it will be streaming live.
Please pre-register: https://us02web.zoom.us/webinar/register/WN_wDBVadJ5RHC0GQOM7PxZnA.
Please consider becoming a member or making a donation online: https://whitememorialcc.org/donations/