When:
October 30, 2021 @ 3:00 pm – 4:30 pm
2021-10-30T15:00:00-04:00
2021-10-30T16:30:00-04:00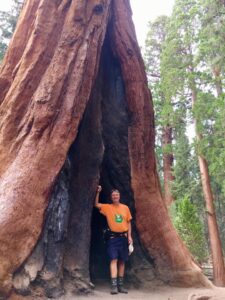 Saturday, October 30, 2021
Travel with Tom, as he walks amongst the LARGEST LIVING THINGS ON EARTH, the Giant Sequoias (Sequoiadendron giganteum).  He'll bring the scale of both size and age of these magnificent specimens to you from Sequoia National Park.  The Park is nestled in the southern High Sierra mountain range not far from Mt. Whitney, the highest point in the lower 48. This location provides the unique environmental conditions necessary for these trees to grow and reproduce.  Learn exactly what these conditions are.  When first discovered by Western explorers, Sequoias were harvested and immense groves were cut clear.  Are we better stewards now? Tom will bring the history of the Park to you and illustrate what conservationists are doing to preserve these living wonders. 3:00 p.m., ZOOM, Members: FREE  Non-Members: $10.00, Pre-registration is required. Call 860-567-0857 or register online: www.whitememorialcc.org A link to the program will be sent once registration is complete.