When:
April 13, 2021 @ 1:30 pm – 4:00 pm
2021-04-13T13:30:00-04:00
2021-04-13T16:00:00-04:00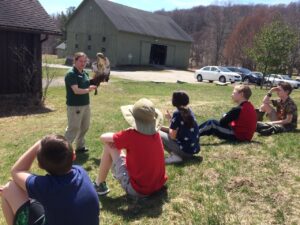 Tuesday, April 13-Friday, April 16
White Memorial's Spring Nature Camp
Grades 1-3: 9:30am – 12pm
Spring is here and we need to get outside and celebrate! Grab your hiking shoes and get ready for some good old-fashioned nature exploration. We'll traverse the grounds of White Memorial, looking and listening for all the signs of the season, from new plants emerging, to turtles basking in the sun, to frogs croaking, to butterflies fluttering by. We'll also play some fun outdoor games, make crafts, meet our education animals, and just enjoy each other's company while adhering to COVID safety protocols.
These sessions will be held in-person, taking place outdoors or in our Activity Shed with barn doors open on two sides. Masks are required for everyone. NO snacks or drinks will be served, so please bring your own. Please make sure children are dressed appropriately for the weather and are wearing sturdy walking shoes that can get dirty. Parents are welcome to stay, but it is not necessary. Meet on the lawn between the Main Parking Area and the Nature Museum. Advanced registration is required. Space is limited to 10 children per day! You can sign up by session or for the whole series. To register, please call 860-567-0857 or visit whitememorialcc.org.
Members: $20/child per session or $70/child for the week. Non-members: $30/child per session or $110/child for the week. Financial aid is available by inquiry.