When:
August 8, 2020 @ 2:00 pm – 3:30 pm
2020-08-08T14:00:00-04:00
2020-08-08T15:30:00-04:00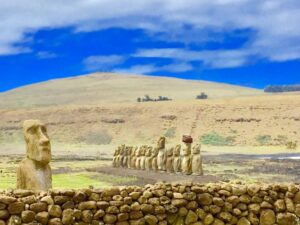 Saturday, August 8, 2020
2:00 p.m.
ZOOM
In sixth grade Gerri Griswold read Norwegian explorer Thor Hyerdahl's "Kon Tiki". It never left her system. Griswold finally answered the calling in October 2017 by celebrating her 60th birthday on the world's most remotely populated island with her good friend and travel obsessed colleague, Liz Frazier – Zygmont. Most people venture out to this tiny volcanic rock perched at the very edge of French Polynesia for two or three days. After seven days Frazier- Zygmont and Griswold concurred that Easter Island's dazzling facets are so abundant that two weeks should be the minimum excursion. Spend some time reliving their remarkable journey. You'll not only see some pretty amazing photographs but learn that Isla de Pascua, Easter Island, Rapa Nui is much more than the Moai statues which define it for so many. 2:00 p.m, This free virtual program will be hosted in Zoom and simulcast on "The White Memorial Conservation Center" Facebook page via Facebook Live!
Please pre-register:  https://us02web.zoom.us/webinar/register/WN_IFO-CNyPTOKtLrKjxdeRdA
Please consider becoming a member or making a donation online: https://whitememorialcc.org/donations/