When:
May 15, 2021 @ 2:00 pm – 3:30 pm
2021-05-15T14:00:00-04:00
2021-05-15T15:30:00-04:00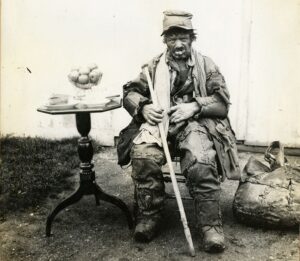 Saturday, May 15, 2021
During the 1800's there was a mysterious wanderer who hiked Westchester County, New York, western Connecticut, and the Berkshires. Speaking very little, he communicated his needs of food primarily with hand gestures. Dressed in his leather "suit",he was, at first, a curious and fearful sight. But as residents grew to expect his appearances in their towns, they were happy to accommodate his simple requests and were known to also give him leather scraps, tobacco, and sometimes money.
Due to his attire and the fact that he did not reveal his name, he was given the name Leatherman.  In time, most people came to accept his diverse appearance and ways, and waited with anticipation for his return visits.  Despite the tramp laws of the time, there is no record of his arrest other than in 1888, in concern for his failing health.
Misidentified as Jules Bourglay of Lyons, France, a great deal has been written about him, some of it truth, some of it fiction.  It is hard to discern what is fact since all who knew him, or saw him, have passed on. Today's public is left to draw conclusions and decide for themselves who the Leatherman really was.
Shirley Sutton is an Independent Educator, Historical Storyteller, Master Wildlife Conservationist, and Performing Artist. Currently an employee of Hale Reservation in Westwood Massachusetts, she leads adventures in the forest and on a "floating classroom".
Sutton first became interested in the Leather Man in 1974 when her then Canton, CT landlady revealed having seen him.
To date Shirley has visited a couple dozen Leather Man shelter sites.  She continues her quest to learn all she can about this mysterious figure.
2:00 p.m., ZOOM, Members: FREE, Non Members: $10.00, Pre-register at www.whtememorialcc.org .