When:
July 15, 2020 @ 2:00 pm – 3:30 pm
2020-07-15T14:00:00-04:00
2020-07-15T15:30:00-04:00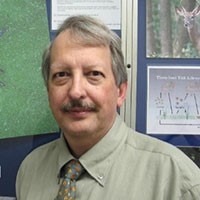 Wednesday, July 15, 2020
2:00 p.m.
ZOOM
Increasing prevalence of Lyme disease and the emergence of other tick-associated human diseases in the United States have become a major public health concern. A wide variety of prevention and control strategies have been adapted or investigated to reduce human risk of disease, but field studies incorporating integrated pest management, ecological, and human behavior concepts are limited. Dr. Stafford will highlight the prevalence of tick-borne pathogens, human risk of tick-borne disease, the current status of tick management research, and present some of the work being conducted at the Experiment Station.
Dr. Kirby C. Stafford III is one of the leading tick experts in the world. He is Chief Entomologist (Head) of the Department of Entomology and State Entomologist (State Plant Regulatory Official) at The Connecticut Agricultural Experiment Station. (CAES)  He joined the Experiment Station in 1987. His research area is the ecology and control of the blacklegged tick, Ixodes scapularis, with a recent focus on natural, biological, and integrated tick control. Dr. Stafford has authored or co-authored 71 articles in peer-reviewed scientific journals, review chapters on tick management in two books, and produced a Tick Management Handbook (CAES Bulletin 1010) and Fly Management Handbook (CAES Bulletin 1013).. Dr. Stafford obtained his Ph.D. in medical-veterinary entomology from Texas A&M University  and has Masters and Bachelor of Science degrees in entomology. 2:00 p.m., This free virtual program will be hosted in Zoom and simulcast on "The White Memorial Conservation Center" Facebook page via Facebook Live!
Please pre-register: https://us02web.zoom.us/webinar/register/WN_7xVbT19UQi2MsQdyHnh4NQ
Please consider becoming a member or making a donation online: https://whitememorialcc.org/donations/