When:
September 26, 2020 @ 10:00 am – 4:30 pm
2020-09-26T10:00:00-04:00
2020-09-26T16:30:00-04:00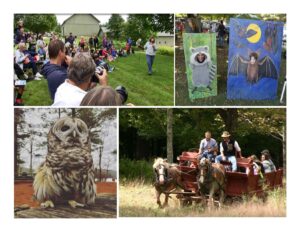 Saturday, September 26, 2020
10:00 a.m. – 4:30 p.m.
ZOOM
Our festival is canceled this year but Covid – 19 won't stop us from offering a taste of what we had planned for you!
10:00 a.m. Gerri Griswold ~ The Bat Lady : This presentation will cover bat populations in Connecticut, the threats they face, and how we can help to protect them. Griswold has been handling bats for 28 years and is licensed by the CT DEEP and USDA. Her efforts on behalf of bats have been rewarded with numerous newspaper and magazine articles. Griswold has delivered programs to the National Park Service and Yale Peabody Museum. She appeared on the cover of The Weekly Reader and produced a segment about bats for The Late Show with David Letterman.
12:00 p.m. Horizon Wings Raptor Rehabilitation and Education Center: Meet Mary Beth Kaeser and some of her feathered colleagues including a Bald Eagle. This fascinating presentation focuses on several species of birds of prey found in Connecticut. You'll also learn about the very important work performed by Horizon Wings! Please consider supporting this marvelous organization with a donation: https://www.horizonwings.org/
2:00p.m. Riverside Reptiles: Turtles and Snakes and Frogs…OH MY! You just never know what glorious critters Brian and Teralyn will bring to the stage! Don't forget to visit the new Riverside Reptiles Education center in Enfield!!! https://www.riversidereptileseducationcenter.com/?fbclid=IwAR1DHqRUelChpS2SBHUAYH_V54aCpTyJkaOwFy9HIEdVkzFJc1lLgpdmsl8
3:00 p.m. LIVE FROM CALIFORNIA! Tom Alena! Tom has dazzled Family Nature Day guests for years with his wonderful passion for geology, meteorology, astronomy, and teaching children! Today he will reflect on some of his favorite Family Nature Days in photographs and…of course….scientific experiments!
These free virtual programs will be hosted in Zoom and simulcast on the  "The White Memorial Conservation Center" Facebook page via Facebook Live!
Please pre-register:
Bats: https://us02web.zoom.us/webinar/register/WN_0KxjtNxYSu2bEYenGBw7_w
Raptors: https://us02web.zoom.us/webinar/register/WN_yVcOl8PITMytkMwJoGASMw
Reptiles: https://us02web.zoom.us/webinar/register/WN_6kbBGb_nSIKWs5rh8AwjFQ
Tom: https://us02web.zoom.us/webinar/register/WN_LI3sNgItSsS0Dek6nm4QVw
Please consider becoming a member or making a donation online: https://whitememorialcc.org/donations/