When:
July 13, 2021 @ 9:30 am – 11:30 am
2021-07-13T09:30:00-04:00
2021-07-13T11:30:00-04:00
Contact:
White Memorial Conservation Center
860-567-0857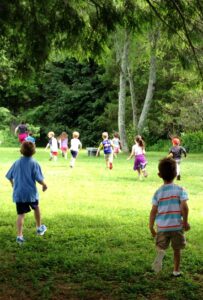 Tuesdays, July 13, 20, 27, August 3 and 10  
"Wee Discoverers" Summer Nature Camp SOLD OUT
This weekly two-hour series for 4 & 5 year-olds features stories, songs, crafts, games, and outdoor adventures that introduce young ones to the wonders of nature! Sign up by session or for all 5 sessions.
PLEASE READ THE FOLLOWING INFORMATION VERY CLOSELY:
Certain adjustments will need to be made to summer camp in light of current circumstances:
– Our "homebase" for Wee Discoverers will be located outside on picnic tables. Activities will primarily take place all outdoors.
– When seated, children will be spaced 6 ft. apart.
– We may take occasional visits into the Nature Museum, but those visits will be scheduled when no one else from the public will be in there.
– Masks are required (except in the case of documented medical exemptions) for all participants, and for parents during drop-off and pick-up if parents get out of their cars. We will provide occasional "mask breaks" while the kids are spread out from each other.
– We will also be using sanitizer occasionally to clean hands. Please let us know if your child has an allergy to sanitizer.
– All other state guidelines for COVID safety will be followed.
Meet on the lawn in front of the Nature Museum. 9:30 – 11:30am. Pre-registration and pre-payment are required. Please call 860-567-0857 or visit whitememorialcc.org to register. Registration opens April 1 for members and April 15 for non-members. Space is limited! Members: $15/session, Non-members: $25/session. Financial aid is available on a first-come, first-served basis – inquire by calling.
Refunds will only be issued (minus a $15 service fee) if a cancellation is made 2 weeks in advance of the first day of the camp you're booking. Call 860-567-0857 or email lois@whitememorialcc.org regarding advanced cancellations.
Upon registration, you will be mailed a confirmation letter along with a permission slip. Please review this mailing closely and return the necessary paperwork as soon as possible, but by July 1st at the latest.
Thank you!