Description
Spectacularly talented Jennifer Creigh has these lovely offerings for your consideration.  They are made with an organic goats milk soap base. Typically she adds honey or olive oil to the base as well, just to add a bit more moisture. Bars of soap weigh 4 oz and cost $7.50 each plus tax Total: $7.98 The mini Bath Bombs cost $4.00 each plus tax Total: $4.25
$10.00 SHIPPING
 AVAILABLE FOR CURBSIDE PICKUP.
PLEASE ALLOW ONE WEEK FOR DELIVERY.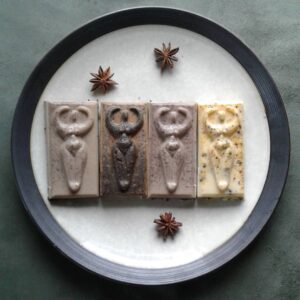 Holiday soaps are all named for goddesses:
Frigga (left) ~  made with clove oil, ground cloves and ground coffee
Rhiannon (left center)~ made with ground cardamom pods, ginger and cocoa
Brigit (right center)~ made with ground Ceylon cinnamon bark and coffee
Skadi (right)~ made with oils of pine, juniper, orange and peppermint.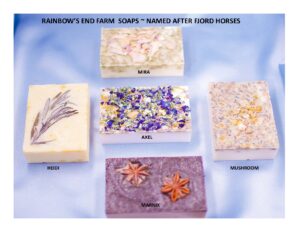 These soaps are named after the Fjord horses on her mother-in-law's farm. From bottom to top:
Marnix (bottom)is made with coffee, local maple syrup and star anise
Heidi (left) is made orange and rosemary oils, as well as honey
Axel (middle) is made with coconut oil, tea tree oil, lavender and wildflowers
Mushroom (right) is made with lavender, chamomile and honey
Mira (top) is made with rose oil, green clay, kelp and yarrow flowers
Mini Bath Bombs made with citric acid, lavender and a little bit of glitter.