The 40th Annual Family Nature Day Raffle Ticket Sale!
June 24 @ 8:00 am

-

September 22 @ 11:00 pm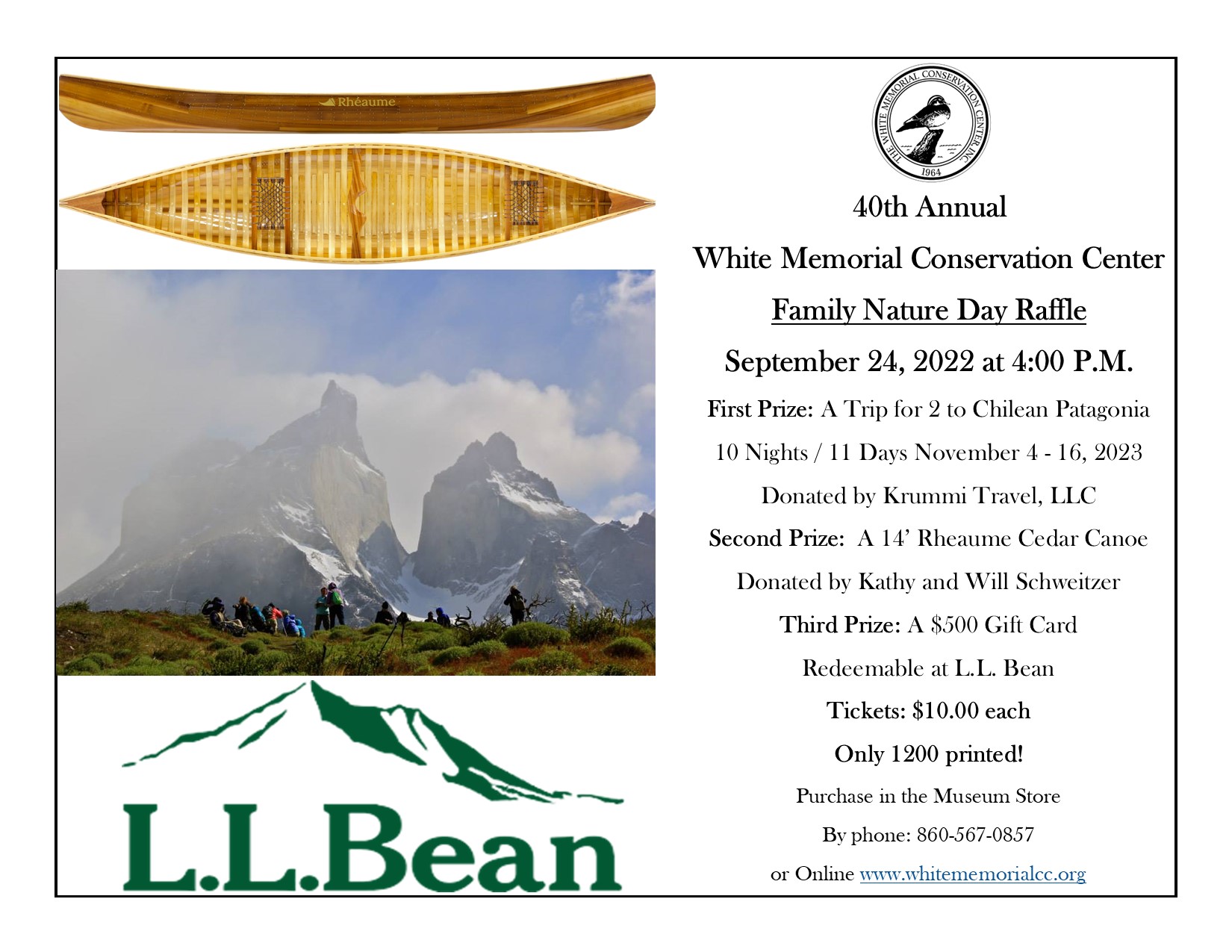 June 24, 2022 – September 22, 2022
The 40th Annual Family Nature Day Raffle!
This year's prizes are bigger and better than ever! It's our 40th Annual Nature Day!
There are only 1200 tickets available so your chances of visiting penguins at the bottom of the world or seeing a puma in the wild, sleeping for a week in a luxury yurt overlooking the Cuernos del Paine, chowing down on the most exquisite Chilean foods and wine,  or hiking to the astonishingly beautiful Torres del Paine,  are pretty good! This exciting ten night / eleven day trip has been donated by
Krummi Travel, LLC.
Perhaps you see yourself paddling the Bantam River in a stunning Rheaume Mohawk 14 foot cedar Canoe with hand carved paddles? Kathy and Will Schweitzer donated this lovely boat!
Who couldn't use a new pair of boots or some snazzy outerwear? Our third prize, a $500 gift card to L L Bean, could help outfit you for the chilly months ahead!
The drawing for the raffle is on Family Nature Day, September 24, 2022 at 4:00 p.m. Winners do not need t be present to collect their prize! Please help White Memorial by purchasing a ticket or two or more and be eligible to win one of these three exciting prizes.
Tickets can also be purchased in the gift shop or by phone: 860-567-0857.
Buy tickets here: https://whitememorialcc.org/product/the-40th-nature-day-raffle/
Details
Start:

June 24 @ 8:00 am

End:

September 22 @ 11:00 pm