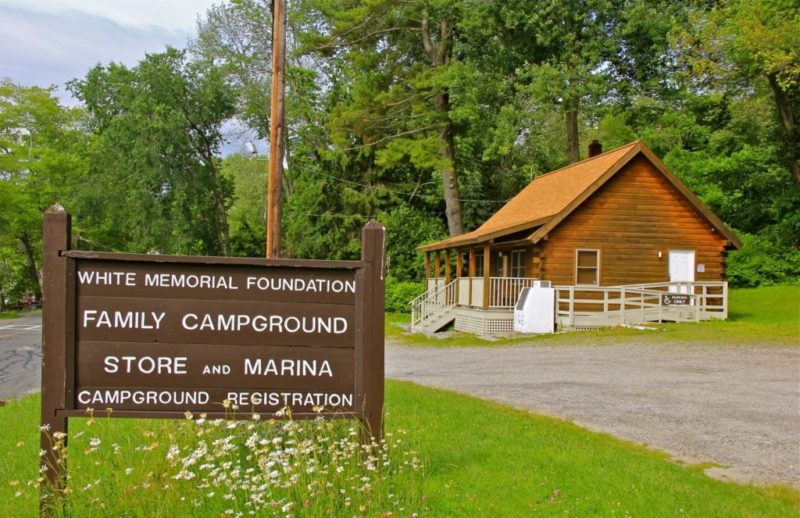 FAMILY CAMPGROUNDS
White Memorial Foundation provides two distinct areas for family camping. Our purpose is to offer a quiet, unspoiled camping experience without the modern conveniences of some campgrounds. If this is what you seek, you will return here time and time again.
Point Folly Family Campground has 47 sites located on a peninsula in Bantam Lake. Windmill Hill Family Campground has 18 sites in the shelter and quiet of pine woods. From these sites the varied habitat and facilities of the Foundation and Conservation Center may be explored. The season at Point Folly begins early May and ends on Columbus Day. Windmill Hill is open from Memorial Day through Labor Day.  If you are looking for non-profit group camping, click HERE.
CAMPGROUND STORE HOURS
LABOR DAY WEEKEND
| | |
| --- | --- |
| Friday 9/1 | 11:00 – 7:00 |
| Saturday 9/2 | 10:00 – 4:00 |
| Sunday 9/3 | 10:00 – 7:00 |
| Monday 9/4 | 10:00 – 5:00 |
SEPTEMBER 5th – 9th
| | |
| --- | --- |
| Tuesday 9/5 | STORE CLOSED |
| Wednesday 9/6 | 11:00 – 1:00 |
| Thursday 9/7 | STORE CLOSED |
| Friday 9/8 | 12:00 – 5:30 |
| Saturday 9/9 | 10:00 – 4:00 |
SEPTEMBER 10th – OCTOBER 5th
| | |
| --- | --- |
| Sunday | 10:00 – 4:00 |
| Monday | STORE CLOSED |
| Tuesday | 11:00 – 1:00 |
| Wednesday | 11:00 – 1:00 |
| Thursday | STORE CLOSED |
| Friday | 12:00 – 5:30 |
| Saturday | 10:00 – 4:00 |
 COLUMBUS DAY WEEKEND
| | |
| --- | --- |
| Friday 10/6 | 12:00 – 5:30 |
| Saturday 10/7 | 10:00 – 4:00 |
| Sunday 10/8 | 10:00 – 4:00 |
| Monday 10/9 | 10:00 – 4:00 |
SEE YOU NEXT YEAR!
CONTACT INFORMATION

Telephone:
May to mid-October- (860)-567-0089
Off season- (860)-567-0857
Mailing address:
White Memorial Foundation Family Campgrounds
P.O. Box 368
Litchfield, CT 06759
CAMPGROUND LOCATIONS
Campground Store and Point Folly location: 123 North Shore Road, Bantam, CT
Windmill Hill location: Whitehall Road, Litchfield, CT
Map of Both Campsites in Relation to Route 202
RESERVING A SITE
Reservations are accepted by MAIL ONLY until Memorial Day weekend, after which time reservations will be accepted by mail or in person at the Campground Store. Telephone reservations are not accepted.
Download Camp Registration Form
The minimum reservation is two days, or three days on hol­iday weekends. A two-day weekend reservation consists of a Fri­day and Saturday night. Each camp day extends from time of arrival until 12 noon the following day. Reservations take effect at 12 noon. The maximum stay is 14 days. Between EACH stay, regardless of duration, a seven day interim period is mandatory for ALL members of the camping party. All equipment must be removed from the campground between each camp stay.
Please check in at the Campground Store at 123 North Shore Road in Bantam. If a reserved site is not occupied during the first 24 hours of the confirmed reservation by the camper who made the reservation, the reservation will be cancelled and the deposit forfeited.
Reservations should be sent to the White Memorial Foun­dation, Box 368, Litchfield, CT 06759 after January 15. From January 15th until February 15th, reservations for ONLY stays of 7 days or more will be accepted. Weekend reservations are accepted starting February 15th. From January 15th through mid-April, the campground manager will be available by phone (860-567-0857) each Wednesday from 1:00pm – 3:00pm to answer any questions. All sites not reserved in advance are available on a first come, first served basis. Please visit the campground store at 123 North Shore Road, Bantam, CT.
FEES
Windmill Hill (Wooded area) – $10.00 / night / site
Point Folly (Waterfront)
* Tents – $16.00/night/site
* All other types of camping vehicles – $19.50/night/site
* Visitors – $4.00/car
A deposit of one night's fee is required for 2-3 nights' stays; a deposit of 3 nights' fees is required for stays of 4-7 days; a deposit of 5 nights' fees is required for stays of 8-14 days.  Deposits are NOT REFUNDABLE. Make checks payable to White Memorial Foundation, Inc. A deposit is required for EACH site for EACH stay.
The campsite fee covers a camping party of four related persons. If more than four related persons wish to camp on a site, there is an additional charge. For two additional related adults, the charge is the rate of the nightly fee for the site. The maximum number of persons per campsite is 6 except that a camp registrant may occupy a single campsite at the nightly fee with spouse and his or her UNMARRIED children regard­less of whether or not the total exceeds four persons. Minors (under 18) are not permitted to camp unless accompanied by an adult.
OTHER IMPORTANT RULES AND INFORMATION
CAMPING VEHICLE
Point Folly – Tent, Trailer, and RV camping are allowed. Size of camping vehicle allowed is determined on the basis of the site involved and is subject to approval by the campground manager.
Windmill Hill – No vehicles larger than a standard sized van or pickup are allowed in the campground. Restricted to tent camping.
FACILITIES
Drinking water*, pit toilets, and a dumping station are pro­vided. Not provided are INDIVIDUAL connections for elec­tricity, water or sanitary facilities, laundry units, showers, lodges or shelters. A campground store and marina are operated near the entrance to Point Folly. Public boat launching facilities are available at our Marina. Campers may launch boats from our launch for a reduced charge and Point Folly campers may moor boats near their campsites. Sandy Beach, located on Bantam Lake, is available for swim­ming for a nominal fee. Directions and regulations may be obtained at the Camp­ground Store.
*WINDMILL HILL – Water is available nearby (see map).
CAMPING DO'S AND DON'TS
In order to make everyone's stay more pleasant as well as protect the property, it is absolutely necessary that all campers abide by the following simple rules. By registering you agree to do so. If you do not comply, your camping permit may be revoked.
DO
Keep campsite in a neat and sanitary condition.
Bag all rubbish and dispose of it in the designated place.
Tie clothesline to trees.
Confine your pet on a leash not more than seven feet in length and stay with pet at all times.
Attend your fire at all times and be sure it is out before leaving.
Obey all quiet hours between 10:00pm and 7:00am.
Make sure your visitors have registered, park in the correct place, and leave by 9:00pm.
Limit generator use and don't use generators during quiet hours.
Black bears inhabit the area, so secure all food and belongings in your vehicle.
DON'T
Move a fireplace or leave trash in fireplaces.
Wash cars in campgrounds.
Wash dishes at water taps.
Bring keg beer to campgrounds.
Injure, remove or destroy any animal or plant material on the property.
Drive nails, knives or other foreign objects into trees.
Leave clothesline up without articles hanging.
Have firearms, air rifles, gas weapons, sling shots or bows and arrows in your possession.
Have more than two motor vehicles (with proper passes) on a single campsite.
Bring unregistered motor vehicles (including motor bikes, mopeds, etc.) to the campgrounds.
LINKS:
Map of Both Campsites in Relation to Route 202