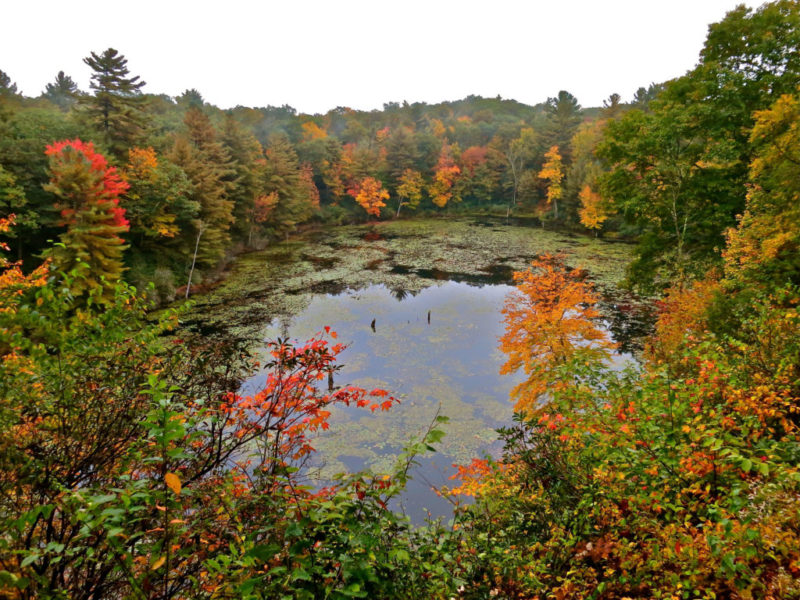 The White Memorial Foundation and Conservation Center is located in the Towns of Litchfield and Morris in northwestern Connecticut. Created in 1913 by Alain C. White and his sister, May W. White, the Foundation and Center today comprise 4,000 acres of forest, fields and wetlands. Visitors will find:
40 Miles of Trails – Our trail system is maintained by the Foundation for use, without charge, for hiking, biking, horseback riding, snowshoeing, cross-country skiing, and other outdoor activities. The most popular trail is the Little Pond, or "Boardwalk," Trail. We also have 3 trails with interpretive signage or materials: the Trail of the Senses (which also has braille signs), the Interpretive Nature Trail, and the Ice House Trail. Numerous other notable trails also crisscross through the beautiful and diverse habitats of White Memorial.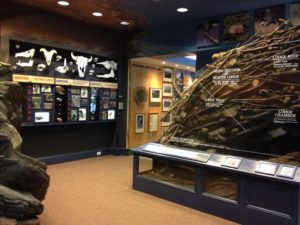 Nature Museum and Main Area – Our Nature Museum interprets the natural history of the White Memorial Foundation property, and is the focal point of White Memorial's environmental education program. The museum building was once the summer home of Alain and May White. Today you will find hints of the original architecture interspersed with wall-to-wall exhibits that engage and educate all age groups. The grounds surrounding the Museum, historically known as Whitehall, include 2 bird-feeding areas, picnic tables nestled in picturesque settings, and multiple trailheads. A rich variety of habitats are unveiled in this small area. A quick trip down the hill behind the Museum leads you to and around Ongley Pond, where wildlife abounds.
The Bantam River and Multiple Ponds – The Foundation's 10 ponds, as well as 6 miles of the Bantam River that flow through the property, are available for kayaking and canoeing, wildlife viewing, and fishing. Unique features characterize each spot on the property, such as the impressive stand of mountain laurel surrounding Plunge Pool, the pillars of an old Japanese Tea House once used by the Whites on the shore of Beaver Pond, and the steep bank along the Bantam River at "Little Left" that houses nesting belted kingfishers.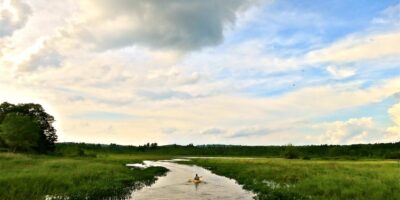 Bantam Lake Shoreline – Alain and May White's mission was to acquire and preserve 100% of the land around CT's largest natural lake. They managed to acquire 60% of that shoreline, and today Bantam Lake is a popular destination for all sorts of outdoor recreation. In the summer, the lake is visited by boaters, fishermen, swimmers, birdwatchers, and campers. In the winter, ice fishing, ice yachting, ice skating, and winter birdwatching are all popular.
Apple Hill – Park at the base of Laurel Hill or Apple Hill and travel the steady incline which culminates at one of the most beautiful destinations on our property, overlooking Bantam Lake. With cross country skiing opportunities in winter, unique birding opportunities in spring and summer, and a majestic panorama of leaf colors in fall, Apple Hill enthralls in every season. Climb the viewing platform during dawn and witness the moon setting in the west and the sun rising in the east.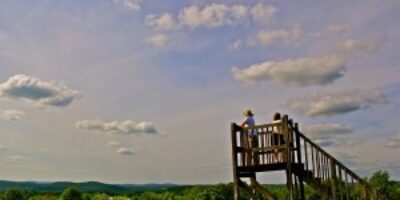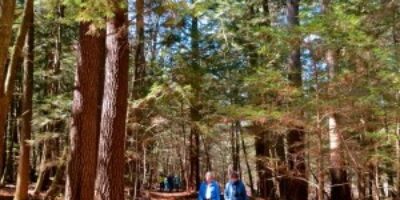 Catlin Woods – Untouched for over three centuries, Catlin Woods is the perfect destination to witness the succession of a forest. Besides a canopy composed of grand pines and hemlocks, this area also contains a diversity of ferns, lichens, and fungi. Bird lovers are drawn here in spring and summer to count the several thrush species that call this place home. The back end of the parcel dead-ends at Bantam River, where you can watch for beavers, waterfowl, or the occasional kayaker making his or her way up to Little Pond.
Campgrounds – White Memorial has several campgrounds that can be used by families and youth groups. The popular Point Folly Campground is located on a peninsula in Bantam Lake, offering a quiet and unspoiled camping experience. The beautiful Windmill Hill has sites in the shelter of peaceful pine woods. Two easily accessible campgrounds are available to non-profit groups at no cost. From all of these sites, the varied habitat and facilities of the Foundation and Conservation Center can be explored.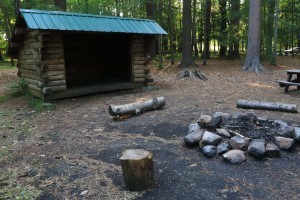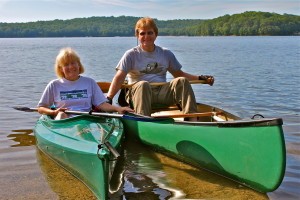 Marina – Bantam Lake and Bantam River offer fine fishing and boating opportunities. Both are accessible by White Memorial's Point Folly Marina and Boat Launch located at 123 North Shore Road in Litchfield. Moorings and a small number of boat slips are available on a rental basis. Motor boats are allowed on Bantam Lake, however no internal combustion engines are allowed on Bantam River.
Rental Facilities – Hold your next meeting, conference, birthday party, or even your wedding amongst the beautiful backdrop of White Memorial property. We have several rental facilities available, ranging from an indoor residence center to a screened-in pavilion to numerous outdoor fields, and more.