Thank you all for another amazing Family Nature Day! See you next year for the 42nd Annual Family Nature Day on September 21st, 2024!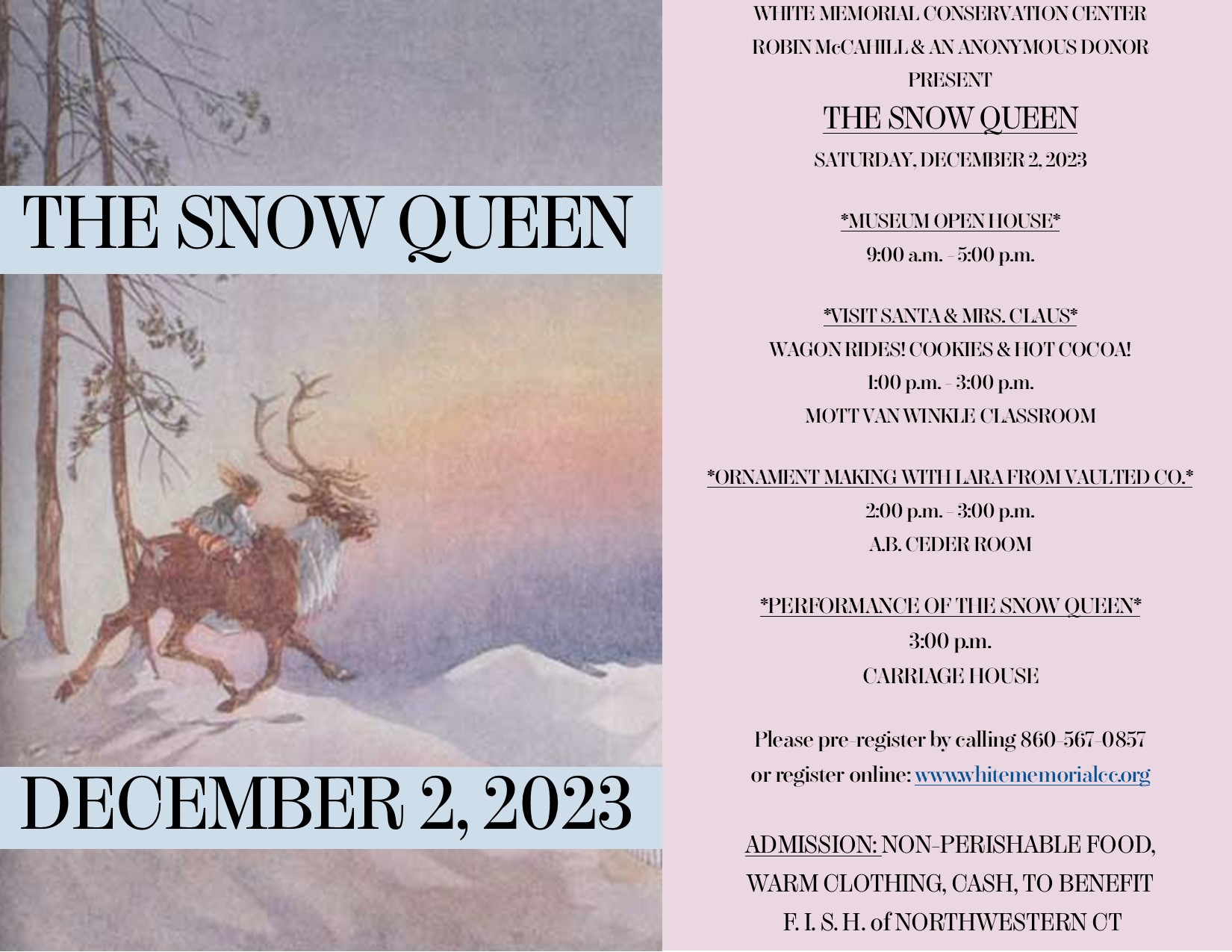 A revival of this outstanding holiday program which was featured in Diane Smith's book, A Connecticut Christmas! Artist and puppeteer Robin McCahill returns to the Carriage House at White Memorial for one performance of the Hans Christian Anderson tale of friends lost and found, visits to distant lands, travels through changing seasons, and encounters with strange and exotic characters. McCahill's whimsical troupe of hand-felted marionettes tells the story. Santa and Mrs. Claus will be visiting from 1:00 p.m. until 3:00 p.m. They will escort guests to the Mott-Van Winkle classroom in their chauffeured wagon. While Santa receives guests in the classroom, Mrs. Claus will lead a carol sing around the bonfire. Cookies and cups of hot chocolate sweeten the day.
Santa and Mrs. Claus arrive at 1:00 p.m.
Wagon rides until 3:00 p.m.
Performance: 3:00 P.M. in the Carriage House.
There will be a Museum Open House from 9:00 a.m. until 5:00 p.m.! The Gift Shop is full of wonderful stocking stuffers and one-of-a-kind gifts made in Connecticut!
ADMISSION: A donation of warm socks, mittens, gloves, or hats of any size or color and a non-perishable food item for the pantry at FISH (Friends in Service to Humanity), Torrington CT.
You must call and make a reservation: 860-567-0857 or register online:
Snow Queen Registration
This beautiful program is made possible in its entirety by an anonymous donor.